Oakfield Stationery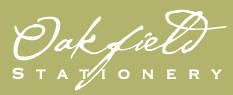 High quality wedding stationery which is hand crafted with skill and care.

Our aim here at Oakfield Stationery is to make your special day one you and your guests will look forward to and remember fondly for years to come. We provide a range of high quality handmade wedding stationery that adds that personal touch which sets your day apart from others.
If you contact the business please mention The Bridge Pages.
Submit an Entry
Warning!!! Warning!!! Cookies are disabled Warning!!! Warning!!!